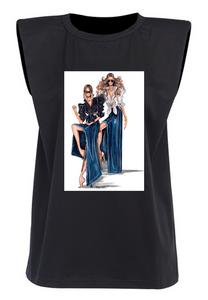 Anzata Collection Muscle Tee with Padded Shoulders 
Inspired by Maria Jose Barraza and Claudia Zuleta's Capsule Collection II Anzata x Maria Jose Barraza. 
(Arrives in 5-7 business days - may be less) 
Loose (woman's sizing) 
Crew Neck.
Pullover style.
Doll design is sublimated in neoprene and sewn into the tee.
95% Viscose 
Made in U.S.A.
The tee comes with:
-Shopping with Claudia bookmark 
-Shopping with Claudia Travel Bag