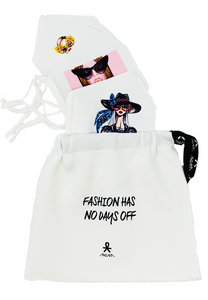 Our neoprene doll face masks are finally here, and along with them, we decided to create a neoprene bag (same material as our masks) so you can store them and carry them with you at all times. 
Our neoprene mask bags protect your masks from dust, particulates, and even the heat of the sun! They are breathable, comfortable, and even washable.
We recommend washing them by hand with cool water and mild detergent but feel free to machine wash them if you have a laundry wash bag to protect them from other heavier pieces. Line dry!  
Includes:
*Does not include face masks